---

Improve Productivity & Health while Working !!
Why is the Laptop Stand Important for Health?
Using a laptop for 4 hours or more per day puts you at risk for a lifetime of computer-related injuries and pain. - -Jacobs K., et al., Ergonomics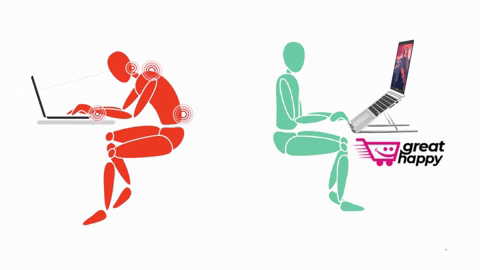 DON'T WORRY! Here is the solutions to keep your Posture in right way. Our Premium Laptop Stand will offer you the most Viewing & Sitting position to Prevent Back, avoid Wrist and Neck Pain.
What Makes The Laptop Stand The Best Solution?
Height Adjustable:

 Height flexibly from 2.1" to 5.5". The ergonomic design helps you correct the posture and reduces pain in the neck, shoulders and spine. 
Compatibility: It supports most devices from 10 - 15.6 inches: Macbook, ThinkPad, Surface, Chromebook, iPad Pro, all kinds laptop like Asus, Acer, Sony, Lenevo, HP, Dell, HCL, iBall, Avita, Toshiba etc.
Foldable and Lightweight: Creative portable foldable design, it weighs only 0.6 lbs and come with a portable storage bag to make it easy to carry and use at the home, office, or other places.
Multiple Use: Laptop Stand can be use in multiple way like Reading Table, Tab Holder, Phone Holder etc.
It is a portable and height adjustable laptop stand that transforms your notebook or tablet into an ergonomic desktop workstation anywhere & anytime.
✔️ Collapsible and Easy to Carry ✔️Adjustable Height ✔️ Fits Almost All Laptops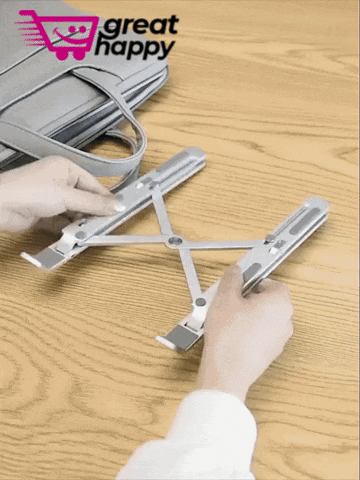 ✔️ Slim & Lightweight ✔️ Quick & Easy Setup ✔️ Easy to Carry

Ergonomics design to improve your posture and for more comfort 
Size: Laptop Stand size is as describe below, materials is Aluminum alloy and load bearing capacity is around 40KG, It comes with 2 colours (Silver/Black)
 LIVE PHOTOS FROM OUR CUSTOMERS DESK:

WhatsApp Order:
 We also accept order through our business WhatsApp number, please send us your shipping address to 
(+91 9064289890) 
we will check and place order for you.  
This section doesn't currently include any content. Add content to this section using the sidebar.